One of the world's oldest carnivals kicks off in Venice
Comments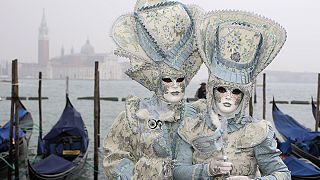 It is carnival time in Venice. Revellers have been showing off their costumes as part of an annual event, which takes place in the run up to Lent.
Many opted for a traditional carnival look, while others chose a more modern theme for their outfits.
Venice Carnival 2016 opening party at Rio di Cannaregio #CarnevaleVenezia2016#FestaVenezianapic.twitter.com/1T6QfqZvUU

— Mari Koskelo (@Marikomente) 24 Janvier 2016
Saturday's highlight was the 'Procession of the Twelve Marias' a reenactment of an historical event, when 12 young girls kidnapped by pirates were liberated.
Carnival, being a pre-Lent festival, means 'farewell to meat' and is celebrated throughout Italy.
It was first held in Venice in the 11th century and consisted of over two months of revelry, until it fell into decline during the 18th century.
It was revived in 1979 with great success and now it's a great excuse to don a mask and costume, parade around the city and enjoy live music in the main squares of the city.
Visitors come from all over the world to visit Venice during carnival time.