Death toll rises in Shi'ite shrine blasts in Damascus
Comments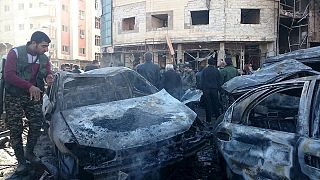 The number of people killed in Sunday's bomb attacks in the Syrian capital Damascus has risen to 71 with dozens more wounded.
A bus carrying twenty-fire Shia fighters was caught up the blasts.
A car bomb and two suicide bombers caused the explosions which targeted Syria's holiest Shi'ite shrine of Sayyeda Zeinab.
The holy site houses the grave of the daughter of Ali ibn Abi Taleb, the cousin of Prophet Mohammed whom Shi'ites consider the rightful successor to the prophet. The dispute over the succession led to the major Sunni-Shi'ite schism in Islam.
The attack comes as the government and opposition groups gathered in Geneva in a bid to start talks aimed at finding a political solution to the conflict.
Death toll rises to 60 martyrs after triple bombing near the shrine of Sayyidah Zainab (as) near #Syria's Damascus. pic.twitter.com/Zin92udQNr

— Haidar Sumeri (@IraqiSecurity) January 31, 2016
Sunni militants ISIL have claimed responsibility. The heavily populated area is a site of pilgrimage for Shi'tes from Iran, Lebanon and other parts of the Muslim world. Shia fighters across the region claim to have joined the conflict on the grounds that they wish to protect the shrine from the civil war.
Syrian Prime Minister Wael al-Halaki was quoted as saying the attacks were prompted by "terror groups" who sought to "raise their morale after a string of defeats" by the army.