Huge storms batter Biscay, Ireland, Norway
Comments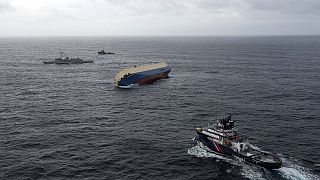 Salvage teams on Friday managed to reach a Panamanian-flagged cargo vessel, which had been drifting in the Bay of Biscay. Spanish rescue helicopters evacuated the 22 crew members on Tuesday, but the rough weather prevented salvage teams from boarding the vessel for days.
In Ireland, thousands of homes and businesses were left have been left power after the arrival of Storm Gertrude. The west and northwest were the hardest-hit, with wind speeds of 130 kilometres per hour recorded in County Donegal.
Hurricane force winds have also stuck several counties in western Norway, with gales continuing into Saturday. Several injuries have been reported and thousands of homes are without power.