CAR: UN official emotional as new child sex abuse allegations revealed
Comments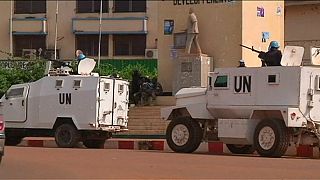 European soldiers and United Nations peacekeepers are facing fresh accusations of child sexual abuse in Central African Republic.
The United Nations say twelve more individuals have come forward with complaints.
Such abuse in the country is being described as "rampant."
"They've once again caused more problems. These serious acts don't honour the United Nations and cause the population to reject their mission," said one man in CAR.
Foreign troops were deployed after mainly Muslim rebels seized power in the majority Christian country in 2013, fuelling violence that's killed thousands.
A UN official appeared emotional as he announced the new cases.
"It's hard to imagine the outrage that people working for the United Nations and for the causes of peace and security feel when these kinds of allegations come to light, particularly involving minors, which are so hard to understand," said Anthony Banbury, UN Assistant Secretary-General for Field Support.
Last month, an independent review accused the UN and its agencies of grossly mishandling allegations of child sexual abuse in Central African Republic in 2013 and 2014.