Public sector workers put Portugal's leftist coalition under pressure
Comments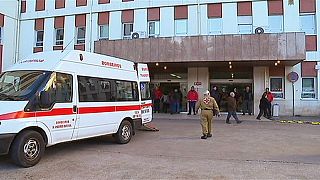 Portugal's new Socialist-led coalition government is facing its first test; a strike by around half of the country's 600,000 civil servants.
Courts, schools and medical services were badly hit as workers demanded a return to their 35-hour week. The government said it would go back down from 40 in July as it scales back austerity measures.
"I'm not predicting how long I will have to wait, because there isn't anyone to see me," said one patient patient in a Lisbon hospital.
"The service is working normally, there are not many people ahead of me. I see fewer
people in the room, but there are days with more or less people," said another awaiting treatment.
The coalition governs with a minority and has to be careful as the least slip-up could lead to it falling.
Only a few doctors, nurses and teachers joined the stoppage, which lasted for 24 hours. No further strike action has been discussed by the unions for the moment.