CAR: UN says it has heard fresh allegations of abuse by foreign soldiers
Comments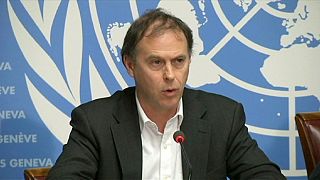 Six children make allegations
Non-UN troops involved
The news
The UN says it has heard fresh allegations that peacekeepers from Georgia, France and another unnamed European country sexually abused children while deployed in Central African Republic.
French, European peacekeepers implicated in yet more claims of sexual abuse in CAR, according to UN https://t.co/UXCbdy6yjl#CARcrisis

— Evan Cinq-Mars (@ecinqmars) January 29, 2016
The crimes, including rape, where allegedly committed in 2014 but only came to light during interviews in recent weeks.
#UN & govt shld protect women in Mpoko displacement camp from violence, rape #CARcrisishrw</a> <a href="https://t.co/ZwipW0Hzvn">https://t.co/ZwipW0Hzvn</a> <a href="https://t.co/2JNnZU1RgL">pic.twitter.com/2JNnZU1RgL</a></p>&mdash; Amy Herrmann (Amy_Herrmann) December 17, 2015
All six cases involving EUFOR, and not UN, foreign military forces took place in, or near, the M'Poko camp for displaced people next to the airport in the capital, Bangui.
#CAR: We call for urgent investigation into new allegations of sexual abuse of children by foreign soldiers https://t.co/88hHPPQJMyUN_CAR</a></p>&mdash; UN Human Rights (UNHumanRights) January 29, 2016
The national authorities concerned have been informed, as well as EUFOR.
Investigations are underway.
The detail
UN staff workers interviewed a girl and a boy aged 7 and 9.
The children claim they were abused in 2014 by French "Sangari" troops.
The girl says she performed sexual acts on French soldiers "in exchange for a bottle of water and packet of cookies."
Four other girls, aged between 14 and 16 at the time of the alleged offences, claim their abusers were attached to contingents operating as part of the European Union operation EUFOR/CAR.
Three of the girls think their alleged abusers were members of the Georgian EUFOR contingent.
The context
UN</a> High Commissioner for Human Rights Zeid Ra&#39;ad Al Hussein to visit <a href="https://twitter.com/hashtag/SriLanka?src=hash">#SriLanka</a> next month. <a href="https://twitter.com/hashtag/lka?src=hash">#lka</a> <a href="https://t.co/vQNleE69qu">pic.twitter.com/vQNleE69qu</a></p>&mdash; Sri Lanka Times (SriLankaTimes) January 25, 2016
The cases raised by the High Commissioner for Human Rights relate to non-UN military forces.
However, a number of cases involving UN peacekeepers came to light during the interviews with minors in CAR.
These are being raised separately with by UN Peacekeeping the relevant Troop Contributing Countries.
Last month, an independent review panel accused the UN and its agencies of grossly mishandling allegations of child sexual abuse by international peacekeepers in the Central African Republic.
UN human rights officials say new allegations emerged concerning soldiers of "troop-contributing countries" during interviews with minors in CAR.
Central African Republic – why is the UN there?
#Peacekeepers accused of abusing children in Central African Republic: #UNhttps://t.co/eYWUw1aqzLpic.twitter.com/os76LJ622D

— Reuters Africa (@ReutersAfrica) January 29, 2016
Majority Muslim rebels from a group called the "Seleka" seized power in the mainly Christian nation in early 2013.
Christian militias embarked a campaign of reprisals.
President Francois Bozize was forced to flee.
Observers say CAR leaders have fuelled a cycle of religious and inter-communal violence in which thousands have died.
What they are saying
"These are extremely serious accusations and it is crucial that these cases are thoroughly and urgently investigated," -*UN High Commissioner for Human Rights Zeid Ra'ad Al Hussein*
Georgia: the Defence Ministry says it will investigate the allegations as quickly as possible.
European Union: says it follows a zero-tolerance policy on sexual misconduct and criminal activity.
"As more and more cases emerge, implicating more and more national contingents, it is also clear that all foreign military forces, whether UN or non-UN, must employ much stronger and more effective actions to prevent further abuse and exploitation, and not just in Central African Republic." – UNOHCHR spokesperson Rupert Colville.