Iran's President Rouhani seeks to revive business ties in Paris
Comments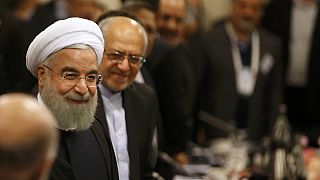 "Iran is open for investment" that was the message the country's President Hassan Rouhani brought with him as he met a warm welcome in Paris from French ministers and leaders of industry.
Rouhani is on the second leg of a European tour to revive business ties – it is his first trip abroad since the sanction-lifting nuclear accord with world powers.
Various contracts are on the table – the Iranian government has already announced its intention to buy up to 127 aircraft from Airbus.
Along with that, Rouhani is due to sign a deal which will see French carmaker Peugeot and it partner Citroen work with Iran's Khodro to produce 200,000 vehicles a year using parts manufactured in Iran.
But not everyone gave the Iranian president a warm welcome… Opponents of the Iranian government called on European countries that want to do business with Tehran to insist it stops executing dissidents.
Across town and President Rouhani attended a select gathering of Iranians who have chosen to live in France – euronews reporter Maria Sarsalari was also there:
"Emerging out of decades of isolation is not an easy task for Iran. This was Hassan Rouhani's promise to the Iranian people but in order to fulfill it he needs the help of millions of highly educated Iranians living outside of the country – those who can help with the transfer of technology and wealth investment back to Iran."