The European airports where reaching the terminal costs more than flying
Comments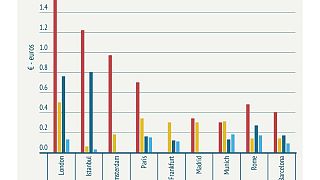 Have you ever had the feeling that it costs more to get to an airport than your plane ticket? Well, it's not just a feeling – our research shows it's often the case around Europe unless you commute in Germany.
Going to to and from airports can cost up to eight times more than a plane ticket
Euronews studied the average cost of going to and from Europe's leading airport hubs and you may find the results startling…
Surprisingly, inter-city transfers to and from airports can cost up to eight times more than the price of a the flight itself. Let's look at the cost of flying from London to Amsterdam, one of Europe's busiest flight routes. A last-minute one-way ticket starts from 79€.
The cost comparison is based on travel per kilometre, in this case that's roughly about 0,22 €. Shuttling from the British capital to Heathrow costs about 1,87 € while moving from the centre of Amsterdam and Schiphol is about 0,97€ per kilometre.
If you total the charges for express transport services on this trip you'll end up forking out 46€, that is 59% of the price of the air ticket.
Cheaper alternatives
The eye-catching posters will push travellers to prioritise "express" or "shuttle" services but often public transport options are up to 55% cheaper. For example the train between Amsterdam and Schipol airport costs 3€ compared to 17€ on the airport's navette.
Setting off for a secondary airport is cheaper
Seven among the nine cities examined have more than one airport, principally further from city-centres and mainly used by low-cost carriers which boost their profits by selling additional services.
However, the results are turned on their head if you compare costs based on price per kilometre. Going to Barcelona from Girona is almost three time more expensive than from the main airport, which equates to 0,17 €/km compared with 0,40 €/km.
Once again, London comes out top on closer examination of the prices with a one-way ticket on the Stansted Express 25€ while a single on the Gatwick Express is 19€.
Vorsprung durch Germany
It appears only the Germans allow travellers to move in and out of cities at little cost. In Munich, authorities employ the Lufthansa shuttle or the Allgäu Airport Express which are cheaper than taking the train. Frankfurt-Rhein/Mein's train costs 3.55€ but the bus from Frankfurt-Hahn is a euro more expensive than the train. Turkey's Istanbul Ataturk is by far the cheapest to move to and from.*
Time vs travel vs cost
We tend to think that the more expensive "express or shuttle" services are worth it because of time saved; however that's not the case for one of Europe's busiest hubs. At Heathrow, you can save around 10 minutes by taking the express service rather than the London Underground which takes around 35 minutes.
So, if time is money for you; know that the cost per minute/savings ratio 2,40 €*.
For Europe's two other busiest airports, the cheaper transport services are also the fastest. A train from the airport to Amsterdam or the metro to Istanbul takes between 15-30 minutes.