Washington comes out to play after blizzard
Comments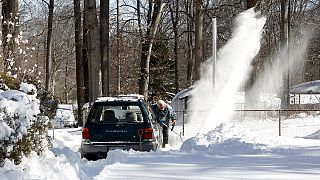 Two days after the worst snow storm in decades, Washington DC is going back to work.
Children and adults alike made the most of Washington DC's wintry wonderland. Two days of being forced to stay in doors sent crowds flocking to the biggest lope around – Capital Hill.
The storm hit the eastern states bringing with it transport disruptions, power cuts and some of the heaviest snow falls since records began.
The National Weather Service said 22.4 inches (57 cm) fell in Washington at the National Zoo, and Baltimore-Washington International Airport notched a record 29.2 inches (74.2 cm). The deepest regional total was 42 inches (106.7 cm) at Glengarry, West Virginia.
There were also at least 20 deaths. Thirteen people were killed in weather-related car crashes in Arkansas, North Carolina, Kentucky, Ohio, Tennessee and Virginia on Saturday. One person died in Maryland and three in New York while shoveling snow. Two died of hypothermia in Virginia, and one from carbon monoxide poisoning in Pennsylvania, officials said.
Forty-eight hours later the clean- up began, reconnecting cables and clearing roads ahead of today's return to work.
Our correspondent Stefan Grobe was also one of those keen to get outside:
"It will take a few days until the DC area will be fully operational again. Schools will remain closed on Monday and public transportation disrupted. At the same time, parking rules will be fully enforced with tickets of up to 750 dollars."