'National' funeral for Celine Dion's husband 'over the top'
Comments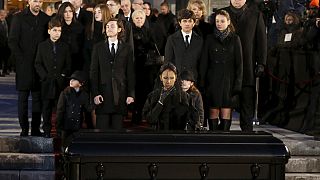 The cost of organising the "national" funeral for Celine Dion's husband was picked up by the government of Quebec.
That's despite Dion being the fifth-richest recording artist in the world, worth the equivalent of about 590 million euros, according to Wealth-X Research.
Canada's The Star newspaper explains that a "national funeral can be offered to those who have made a mark in business, culture or sports, for example, involves the provincial government paying for the rental of the location where the wake and funeral are held as well as any security and crowd control, while the family covers the costs of the burial."
"Over the top"
Journalist and filmmaker Francine Pelletier said the state-sponsored funeral is over top: "These funerals are reserved for people who have really done great things for Quebec – politically, socially culturally," Pelletier told CBC News. "René Angélil has done great things for Céline Dion in the United States, mostly. But in terms of Quebec?
"I think it's really over the top."
The televised service took place in old Montreal's Notre-Dame Basilica where they were married 21 years earlier.
René Angélil, her husband and manager, died of throat cancer on January 14 at the age of 73. He had discovered Dion, now 47, when she was 12.
The funeral had a star-studded guest list and was attended by people from the highest levels of the Canadian government, countless celebrities and dignitaries, among them former premier Jean Charest, current Quebec premier Philippe Couillard and the mayors of Montreal and Quebec City.
Quebec Premier Philippe Couillard paid tribute to Angelil's vision, telling reporters: "He dared to say this singer could be the best in the world."
Sophie Gregoire-Trudeau, wife of Prime Minister Justin Trudeau, also attended.
Before the funeral, former Canadian Prime Minister Brian Mulroney told reporters: "He's a man who had, as the Americans say, his eye on the prize … He was a giant, and together they created the greatest show-biz success story in the history of Canada."
Wearing a black filigree veil and a black dress, Dion entered the church with their five-year-old twins, Eddy and Nelson, also in black and wearing black hats over their flowing hair, holding her hands. She laid deep purple calla lilies on his black coffin.
Her song "Trois heures vingt" (Twenty minutes past three) played as she and the family arrived at 3.20 p.m.
#CelineDion and her children arrive to the funeral for husband and father #ReneAngelil
https://t.co/XBmqAcvsfI

— ET Canada (@ETCanada) January 22, 2016
Their 14-year-old son, René-Charles, who had been baptized in the basilica, escorted Dion's mother.
He said in front of the crowd: "I was lucky to be born into a family where there was a lot of love … Je t'aime, papa. I love you, Daddy."
Retired National Hockey League coach Michel Bergeron was a close friend of Angélil's.
"People ask me if I have memories. I have a thousand memories," Bergeron said before entering the church. He said Friday marked the third occasion he had been to the Notre-Dame Basilica for a Dion-Angélil event: their 1994 wedding, the baptism of their eldest son René-Charles and finally, Angélil's funeral.
He noted that Angélil, knowing he was terminally ill, had planned his funeral before dying. He joked he was anxious to see which pew seat Angélil assigned to him.
The funeral of Celine Dion's husband Rene Angelil was broadcast live on Canadian TV & online https://t.co/FBuFpvf1Cqpic.twitter.com/xJ3XMWDUjv

— billboard (@billboard) January 23, 2016