Condolences from Canada PM after death of Celine Dion's husband René Angélil
Comments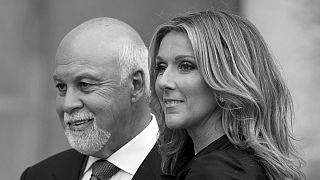 Tributes are being paid to René Angélil, the husband and ex-manager of Canadian singing star Celine Dion, who has died aged 73 after a long battle with cancer.
His death at home in Las Vegas was announced online by the award-winning vocalist.
Rene Angelil passed away this morning at his home in Las Vegas after a long and courageous battle against cancer. https://t.co/JOeLaOfbSB

— Celine Dion (@celinedion) 14 Janvier 2016
The family have asked to be allowed to mourn in private and have said further information will be provided in the coming days.
Dion was discovered by the Canadian impresario when she was just 12 years old.
He said he had never heard such a beautiful voice and drove her career to stardom, reportedly mortgaging his home to finance the singer's first album.
When French-speaking Dion was 18, Angélil instructed her to remake her image by changing her hair and capping her teeth, and enrolling in English school so she could record songs for the US market.
They married in 1994 and have three sons, René-Charles, 14, and 5-year-old twins Nelson and Eddy.
René Angélil's sweetest quotes about Celine Dion and fatherhood https://t.co/DCnxRGu0z6pic.twitter.com/Gp5F1bdeiG

— HELLO! Canada (@HelloCanada) 15 Janvier 2016
Dion temporarily put her career on hold to support Angélil who has battled throat cancer for years.
She said he supported her later return to the stage.
Dion told Good Morning America in early 2015 that Angélil, who had throat cancer, had to eat with the help of a feeding tube three times a day, and was unable to talk or swallow.
Their marriage was initially opposed by Dion's mother, not only because of their 26-year age gap but because Angélil had three children from two previous unions, the singer told media in 2013.
"I have to say that for my mom he was not the prince charming – the ideal prince charming. It was very difficult," Dion told Access Hollywood.com in 2013.
The singer said her mother and family of 13 siblings came to approve of Angélil.
"She had no choice. Love won."
Canada's Prime Minister Justin Trudeau took to Twitter for his tribute.
"My condolences to @CelineDion, and to the children, friends and loved ones of René Angélil on his passing," he wrote.
My condolences to @CelineDion, and to the children, friends and loved ones of René Angélil on his passing.

— Justin Trudeau (@JustinTrudeau) 14 Janvier 2016
In Angélil's native Montreal, flags have been flying at half-mast