Anti-migrant protesters rally in Poland
Comments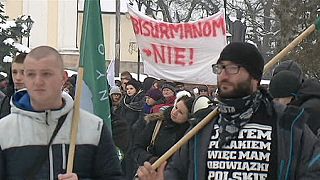 Protesters in Poland took to the streets on Sunday to say 'No' to accepting migrants.
Some at the rally at Gora Kalwaria, some 30 kilometres south of Warsaw, said they feared for women and children after the New Year's Eve sex attacks in Germany.
Others complained that migrants would not be able to integrate, claiming that this was because of their 'different traditions and mentality'.
Poland is set to take in some 7,000 migrants under EU relocation quotas.