Migrant crisis: Iraqis return home, disenchanted with life in Germany
Comments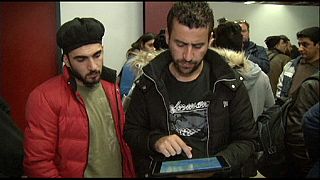 Heval Aram is waiting for a flight to Iraq. He says he and his family travelled for 12 days to reach Germany, but the poor conditions they experienced in refugee camps pushed them to return home.
"They gather people in horrible camps with no space to sleep, bathe or relax. There is no hope here in Germany. I hope nobody will leave their home to come here," he said.
Others claim the food is too expensive for the amount of money they receive from the state.
There are also complaints the asylum process is too slow.
Some pawn jewellery in order to buy a ticket home, returning, they say, with less than they had on arrival in Germany.
Alla Hadrous owns a jewellery shop and runs a travel agency. He says:
"A lot have left already. I don't have the exact figure, but it's a lot. Some have had to sell their valuables – for example, in the jewellery shop next door – in order to buy a ticket back to Erbil or Baghdad."
For some, returning to conflict-torn Iraq is preferable to the reality of life as a refugee. Others, however, are taking a chance on life in Germany.