Which European countries offer the most social benefits to migrants?
Comments
By
Euronews
with
(Reuters) Mark Trevelyan, Gareth Jones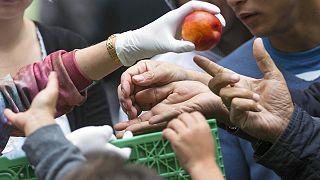 People seeking refugee status in European countries are generally entitled to food, or money to buy it, plus shelter and medical attention, schooling for their children and access to interpreters and lawyers.
The following are some of the rights and benefits they can claim across the continent, above and beyond that basic package.
AUSTRIA (figures for Vienna)
50 euros/month spending money for those in public housing, plus meals or 5 euros/day allowance to buy food.
In private housing: up to 120 euros per person or 240 euros per family towards rent; 210 euros a month for food and living expenses (100 for children); 150 euros per year for clothes, 200 euros/year for school supplies.
Work permit issued once asylum application is approved.
BELGIUM
Those living in refugee reception centres receive a weekly spending allowance of 7.40 euros per adult. Some can also carry out paid work at the centre, receiving up to 185 euros per month. After six months, people can apply for a work permit.
Work permit issued once asylum application is approved; immediate family members can then also come to Belgium.
BULGARIA
Once claims approved, refugees get work permits and same rights as Bulgarians, excluding voting and military service.
CROATIA
Successful asylum seekers receive up to two years' housing paid for by the state if they cannot fund it themselves.
CYPRUS
Right to work in certain sectors if a decision on an asylum claim is still pending after six months.
Those recognised as refugees get travel documents and work permits, and can bring over family members. But Cyprus more commonly awards 'subsidiary status': same benefits minus travel papers and family reunification; must reapply every three years.
CZECHREPUBLIC
No right to work in first year after applying.
360 crowns (13.29 euros) a month for those in state facilities.
On approval: full welfare benefits; financial support to get new qualifications and find accommodation; no right to vote.
DENMARK
Asylum seekers can apply for work.
On approval they get about half the monthly Danish unemployment benefit; can get additional money for passing a Danish language exam. Relatives can't join them in first year.
ESTONIA
Grant of 90 euros per month but must pay for meals. Clothes are provided.
On approval: integration programme and same benefits as permanent residents, including welfare and pension.
FINLAND
Cash grant of 316 euros/month for a single adult and 267 euros for partners and adult children; meals must be paid for. If meals are provided, cash grant is 93 or 76 euros per month.
Must do unpaid community service as step towards integrating or risk losing part of the grant; cannot work elsewhere for first 3-6 months.
Can apply to receive up to 1,000 euros to return home.
On approval: three years' state-financed housing; full welfare benefits, schooling, day care and child benefit; language lessons and help with finding a job.
FRANCE
Allowance of 11.45 euros a day or 343.50 euros a month while awaiting result of asylum process and applying for housing in one of some 300 asylum-seeker housing projects across France. Must pay for food from this allowance, but free or cheap meals often available from food banks.
Free health insurance while application being reviewed.
Cannot work for first 12 months.
GERMANY
Free meals at reception centres plus 143 euros per month in cash for "basic needs", rising after three months to maximum of 216 euros. Government has agreed to extend period in reception centres to six months from three to keep cash payments at the lower level for longer. Berlin also wants to switch from cash benefits to payments in kind "as far as possible".
Up to 92 euros per child, depending on age.
After 15 months, or once asylum request is approved: basic income of around 400 euros/month plus costs for accommodation and heating.
GREECE
Asylum seekers may move freely around the country. If homeless, they may ask to be hosted in a reception centre if there are places. Able to work under conditions set by Greek law, with same security rights and obligations as Greeks.
On approval: three-year residence permit.
HUNGARY
From second month, 7,125 forints (22.76 euros) per month in cash, about a tenth of average unemployment benefit.
Those granted asylum can stay for two more months in reception camp, getting same benefits. Some financial support and housing subsidies available to those who sign an "integration contract".
IRELAND
Under normal circumstances, asylum seekers can spend years in regional centres, receiving full board and a nominal weekly allowance but without the right to work.
Ireland will accept refugees under the EU's plan and will ensure they get help with integration including 20 hours a week of language learning. They also have the right to work or study.
ITALY
No right to work until asylum granted, or during first six months, whichever comes first.
State pays 35 euros/day for each person housed, but most of this goes to the centres providing the meals and shelter. Asylum seekers are entitled to 2.50 euros per day pocket money. Classes in Italian provided in some centres.
On approval: right to work; stay permit of one, three or five years; no cash or housing.
LATVIA
Daily payment of 2.15 euros a day while living at reception centre.
On approval: monthly benefit payment of 256 euros, or 76 euros for those under 18.
LITHUANIA
Monthly allowance of 10 euros while living at reception centre; no right to work until asylum is granted.
Successful applicants can stay up to 18 months at reception centre where they get clothing, language and vocational training, plus up to 61.50 euros for food.
When they leave the centre, municipalities pay moving expenses and first 12 months of rent and utilities.
LUXEMBOURG
Monthly grant of up to 225 euros per adult, if applicant is not hosted in accommodation offering full board. If meals are provided, monthly allowance up to 25 euros per adult.
Can't work for nine months after applying. If asylum process takes longer, can work under strict conditions.
MALTA
Men put into detention centres for up to 18 months. Women and children housed in open centres run jointly by Catholic Church and state.
Very few are granted full asylum but some are given humanitarian status. Men can then move to the open centres where they can live until they find a job or move on.
At centres, they get 130 euros/month plus meals. Classes provided in English, computing, Maltese culture. Length of stay varies. State provides no further housing.
NETHERLANDS
Asylum seekers receive shelter at government-funded reception centres. Each adult receives weekly allowance of 20 to 45 euros for food and 13 euros for other expenses.
Can earn up to 14 euros/week taking jobs within the asylum centre. Refugees are allowed to work 24 weeks a year outside the centre. A share of their salary goes to the asylum centre.
NORWAY
Asylum seekers can apply for temporary work permit and get cash for basic needs such as clothing and toiletries.
On approval: residence permit (normally for three years and renewable); travel documents; accommodation paid by the state for up to five years; money to cover food and living expenses for two years (extendable for a further year).
POLAND
At reception centres, 20 zlotys (4.75 euros) per month for toiletries and pocket money of 50 zlotys (11.89 euros)/month.
One-off cash grant of 140 zlotys (33.28 euros) for clothes and shoes.
Those who decide to live outside refugee centres (about two-thirds) are provided with money to cover their living costs. An individual receives 25 zlotys (5.94 euros)/day, while a four-member family gets a total of 50 zlotys (11.89 euros) towards rent, food etc.
On approval of claim: monthly allowance up to 1,260 zlotys (300 euros), rising to 1,335 (317.35 euros) from October, for one year to cover accommodation, food, clothes, Polish lessons. Free health insurance and legal and psychological support.
PORTUGAL
Allowed to work only once refugee application approved. Aid available according to individual economic situation; can apply to social security for minimum subsistence wage.
ROMANIA
Can work after a year if application still pending.
On approval: state aid of 540 lei ($136) per person per month for up to nine months.
SLOVAKIA
In reception centres, pocket money of 40 euro cents/day.
On approval: right to work or claim unemployment benefit.
One-off cash grant of around 300 euros.
SLOVENIA
Asylum seekers in reception centres get financial help of 18 euros per month. They are also allowed to work.
SPAIN
Allowed to work six months after applying for asylum.
Cash for basic needs: 51.60 euros maximum/month for adults and 19 euros maximum for children under 18; plus monthly transport card, up to 363 euros per year for clothes.
SWEDEN
Asylum seekers living in state housing or reception centres where food is provided receive 24 crowns (2.57 euros) per day for single adults. Those living in accommodation paid for by the state but who have to buy food for themselves get 71 crowns 7.60 euros)/day.
On approval: two-year integration plan including Swedish classes and help with getting a job or work experience.
Full-time programme participants get around 6,700 crowns (716.88 euros)/month, more if they have children or for housing.
SWITZERLAND
Social assistance averaging 1,200 Swiss francs (1.094 euros) per person per month, 20 percent less than for Swiss recipients.
Recognised refugees may work with a permit.
UNITEDKINGDOM
Accommodation tends to be private, paid for by the state.
Weekly allowance of 36.95 pounds (50.35 euros) per person to cover basic needs including food. Small extra amounts available for pregnant women, babies and young children.
Not normally allowed to work.
If granted asylum: same benefits as British nationals.