West Bank: Palestinians to go to the UN over Israel's land plan
Comments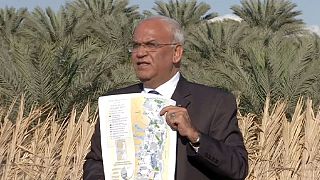 Israel announces plans to develop 154 acres of West Bank land
Palestinians considering UN involvement
UN, US condemn development decision
The news
Israel has announced plans to develop a large tract of agricultural land in the occupied West Bank.
Israel demolishes EU structures and says it will seize West Bank land: https://t.co/MQwWtfyejzpic.twitter.com/yNZOaLWl9T

— Reuters World (@ReutersWorld) January 21, 2016
The 154 hectares are in the fertile Jordan Valley close to Jericho.
Palestinians to go to U.N. After Israel's West Bank Land Seizure Plans Revealed https://t.co/pb3ohwWLdT

— Newsweek Europe (@NewsweekEurope) January 20, 2016
Israel already has many settlement farms built on land Palestinians have earmarked for their own state.
Palestinian Chief Negotiator Saeb Erekat told reporters: "The international community has asked Mr Netanyahu to stop the settlements, his answer is to increase the tenders for settlements and the confiscation of land. They ask him to accept the two-state solution from 1967, his answer is "In my dictionary, on my watch, there is no Palestinian state, the only thing is one state, two systems."
#Israeli PM netanyahu</a> approves land seizure of 380 acres in <a href="https://twitter.com/hashtag/WestBank?src=hash">#WestBank</a> <a href="https://t.co/PU5p395PFy">https://t.co/PU5p395PFy</a> <a href="https://t.co/dR2eUIlC16">pic.twitter.com/dR2eUIlC16</a></p>&mdash; Sputnik (SputnikInt) January 21, 2016
Israeli Prime Minister Benjamin Netanyahu insists the door is open for dialogue.
"It is a land survey, it is one of many, routine, and I think it is not the issue. There has been no decision on what to do with this land, but there is a decision that I have made, to negotiate peace with the Palestinian authorities if they deem to do so."
What they are saying
The UN – 'deeply concerned'
#UNSG "deeply concerned" by Israel's plans to appropriate #WestBank land. This & other stories in the AM NIB. https://t.co/ZtLR54gtu8

— UN Radio (@UN_Radio) January 21, 2016
#UN chief calls on #Israel 2 change policy after reported take-over of West Bank land https://t.co/FF40l5OE6P RT pic.twitter.com/reAV6XTb0S

— Chris Gunness (@ChrisGunness) January 21, 2016
The US – "deeply condemns"
US condemns Israel's planned land grab in occupied West Bank https://t.co/UfdswxMqhE#FreePalestinepic.twitter.com/uZSN7EVnfL

— Press TV (@PressTV) January 21, 2016