Palestinians banned from West Bank settlements after stabbings
Comments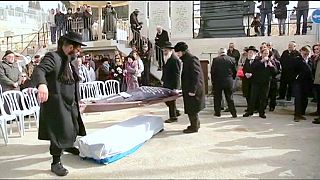 Israel decided on Tuesday (January 19) to temporarily ban Palestinian workers from Jewish settlements in the occupied West Bank, following two anti-Israeli stabbings there in two days.
The Israeli military said the move would be reviewed on a daily basis and was necessary to maintain security.
Israeli forces said earlier they had arrested a 16-year-old Palestinian suspected of stabbing to death an Israeli woman in her home inside a settlement near Hebron on Sunday. Video footage distributed by the Israeli military showed a dozen soldiers carrying out a pre-dawn raid on the suspect's house.
According to Israeli police, the 38 year-old hospital nurse was stabbed to death as she tried to fend off an attacker who broke into her home. Three of her six children reportedly witnessed the scene.
Prime Minister Benyamin Netanyahu visited her family on Tuesday, in the Jewish settlement of Otniel. Most of the world considers such settlements are illegal and an obstacle to the establishment of an independent Palestinian state. Israel disputes this.
While a spate of stabbing, shooting and car-ramming attacks committed by Palestinians have killed 25 Israelis since October 1, such attacks rarely take place within settlements, which are usually heavily guarded. In the same period, at least 148 Palestinians have been killed, 94 of whom Israel has described as assailants. Most of the others died during violent demonstrations and clashes.
Violence in the area continued on Monday when another Palestinian teenager reportedly stabbed a pregnant Israeli woman at a settlement near Bethlehem. The woman was in a stable condition, her fetus unharmed. Her 17-year-old attacker was wounded and captured, according to the Israeli military.
The wave of Palestinian violence, now in its fourth month, has been fueled by various factors including frustration over the 2014 collapse of peace talks and the growth of Jewish settlements on land Palestinians seek for a future state.