ISIL faces cash crunch as fighters' pay is halved and revenues dry up
Comments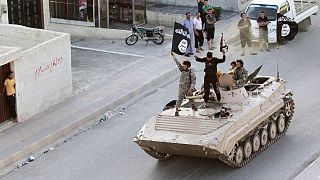 Revolutions and mass movements can only do so much with fanaticism and passion, as ISIL are finding out in Syria and Iraq as they are squeezed by the coalition, the Russian-backed Damascus regime, and a revived Iraqi army and its Shia and Kurdish allies.
Now according to the Syrian Observatory for Human Rights * the Islamic militants have announced ISIL is slashing pay for its fighters, who will now be expected to lay down their lives for the Caliphate for 50% less than before.
Aleppo 24 has a picture of the announcement:
#ISIS lowers fighters salaries to half because the "exceptional circumstances in the Islamic state."
#Aleppo24pic.twitter.com/t014ZUK5QH

— Aleppo24 (@24Aleppo) enero 16, 2016
The pay cut represents the first sign that ISIL is feeling the pinch from the air strikes and ground operations that have severely diminished its revenues from activities like oil smuggling. It means the average Syrian fighter can now expect $200 a month, while foreign jihadis will get $400.
ISIL is continuing to try to preserve the facilities of a functioning state by maintaining support for schools and hospitals, but with reduced revenues there must be a question hanging over how long they can maintain their spending and continue to buy weapons and recruit.
In December the UN Security Council held its first-ever meeting of finance ministers to discuss ways of financially crippling ISIL.
ISIL has been strapped for cash for some time according to local reports from inside Mosul, Iraq's second city, currently under ISIL control.
The US also claimed last weekend that one of its airstrikes had destroyed an ISIL cash depot, sending millions of stored dollars and other currencies up in smoke.
It is also losing support from business and private supporters, especially in Saudi Arabia after the kingdom belatedly decided to crack down on the wildcat financing of Islamic militancy in the region.
The Turks have also reportedly reversed policy, which allegedly was to previously turn a blind eye to ISIL's lucrative cross-border smuggling operations. Ankara has always denied helping ISIL, and is currently prosecuting journalists who say they have proof of cross-border arms sales.
*Readers should note the Syrian Observatory for Human Rights is a one-man operation run out of an apartment in Coventry by an anti-Assad Syrian exile who went to the UK in 2000.