2018 Winter Olympics: Japanese group donate bobsleigh to Jamaica
Comments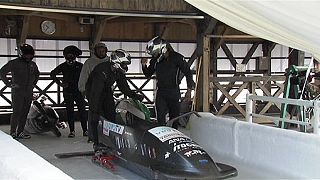 A group of small independent factories in Tokyo's Ota Ward has donated a bobsleigh to help the Jamaican national team secure a spot at the 2018 Winter Olympics in Pyeongchang, South Korea.
Having been rejected by their home country's federation, which use German-made sleds, the Tokyo manufacturers offered their 'Shitamachi Bobsleigh'' to Jamaica.
After signing the contract with the manufacturers President of the Jamaican Bobsleigh Federation, Chris Stokes, confidently said: ''There is going to be Jamaican athletes winning medals at the 2018 Olympic Games using a Shitamachi Bobsleigh.''
About 100 factories pooled their skills to develop the sled.
They are now working closely with the Jamaican team to fine-tune the equipment ready for the Caribbean islanders to launch their Olympic qualification campaign.
If successful their appearance at the 2018 Games will mark the 30-year anniversary of their Olympic bobsleigh debut which inspired the Hollywood film ''Cool Runnings.''
The first #Jamaican Bobsled Team made their first ever debut in the 1988 Winter #Olympics. https://t.co/x4UNT9Z6uGpic.twitter.com/99ARKzd5ir

— MangoErrands (@MangoErrands) December 20, 2015