Iran 1979-2016, sanctions not over yet
Comments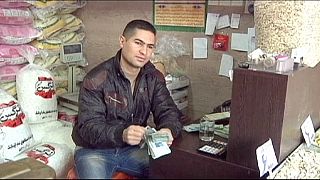 The international agreement over Iran's nuclear programme, billed as 'historic', ended years of sanctions that challenged the Islamic Republic.
Long before the UN acted, in 1979 the seizing of American hostages at the US Embassy in Tehran by students behind the Islamic Revolution severed diplomatic ties with Washington. The hostages were finally all freed in January 1981, as President Carter left the White House and Reagan moved in.
Iranian assets in the US were frozen, trade in goods and services fell under a ban from 1979-1987. Following missed opportunities with the first Bush (Sr.) administration, in 1995 sanctions directly targeted oil.
Under an executive order by President Clinton, Washington clamped down on Tehran's support for organisations the Americans considered terrorist groups.
US and non-US business investment in Iran's oil industry above 20 million dollars would be subject to penalties.
When President Ahmadinejad was elected in 2005, and lifted a suspension of uranium enrichment, the younger Bush administration lobbied hard for UN sanctions over the nuclear programme. The United Nations Security Council obliged, progressively tightening and extending measures.
Between 2006 and 2008, assets were frozen, arms sales were embargoed, finance and trade were restricted. Then the European Union stepped up the pressure.
Iran's economy suffered under the sanctions, yet Ahmadinejad pushed on, with both nuclear and ballistic programmes. After a contested presidential election in 2009 he remained in office. There were opposition protests at home—and crackdowns, and diplomatic disapproval from abroad.
Now Iranian banks were disconnected from foreign dealings, assets of the Central Bank were frozen. Members of the government were distanced from their assets. The European Union banned companies in its member states from insuring Iranian companies. Europe had halved its Iranian oil imports by this time. International allies piled on, supporting the sanctions regime in their own ways.
With the lifting of the crushing load, US authorities say Iran can swiftly get its hands on tens of billions of dollars in oil income that has been blocked in foreign banks, giving the Iranian economy a transformative infusion.
But Washington has imposed new sanctions in connection with Iranian ballistic missile development, which the UN says is in breach of a ban.