Three out of five Americans released by Iran head for home
Comments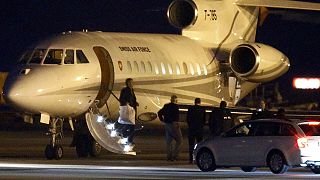 Three out of four Iranian-Americans released from prison in Iran have left Tehran aboard a Swiss aircraft.
Those who wished to depart from Iran have left.
The three – Jason Rezaian, The Washington Post's Tehran bureau chief; Saeed Abedini, a pastor; and Amir Hekmati, an ex-marine – were confirmed to be leaving by a US official.
They will stop in Switzerland, before heading to a US military facility to be checked over by medical staff, The Washington Post reports.
The fourth, Nosratollah Khosravi-Roodsari was not aboard the aircraft.
A fifth prisoner, American student Matthew Trevithick was released separately from the group of four, according to a US official.
"We can confirm that our detained US citizens have been released and that those who wished to depart from Iran have left," a senior US administration official announced.
Lawyers also confirmed the release of several Iranian-Americans held in US prisons after being charged or convicted for violating sanctions.
Seven Iranians are said to have been freed from jail in the United States as part of a prisoner exchange.
The swap came on the back of the announcement a landmark nuclear deal had been negotiated between six world powers —including the US — and Iran.
United Nations Secretary General, Ban Ki-moon "commends the move to improve ties," he said in Dubai. Reuters news agency reports he is "heartened" by the lifting of sanctions.