Chinese state-run media warn Taiwan against independence
Comments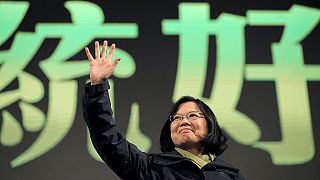 Tsai Ing-wen is the woman of the hour. The leader of the opposition Democratic Progressive Party (DPP) has become Taiwan's first-ever female president.
But China, it seems, is less impressed. Following the announcement of the landslide victory, state-run media warned Taipei against any "poisonous" moves towards independence.
The president-elect appeared to pay no heed to possible Chinese concerns.
"Today's election result proves to the world that Taiwanese people have freedom, Taiwanese people have democracy. As long as I am president, I will do my best to have none of my people apologise for their identity," she said.
China claims Taiwan as its sacred territory.
The traditionally independence-leaning DPP's win sees the Nationalist Party hand over the reins of power for the first time in eight years. It had been steadily warming relations with Beijing.
China's official Xinhua news agency carried an editorial stating there was "no denying that the DPP's return to rule poses grave challenges to cross-strait relations."
Beijing resident Stefanie Chen said she agreed with the 'one China' policy:
"Her (Tsai Ing-wen) view is that there are two Chinas. It doesn't correspond to all of the opinions of the mainland leadership. It's very different. She belongs to a different camp. But I don't see this in a good light at all, because I think that all of us belong to one country. I think we should remember this."
China has previously threatened to use military force, if Taiwan formally declares independence. It is estimated to have hundreds of missiles aimed at the island.