Taiwan elects first female president
Comments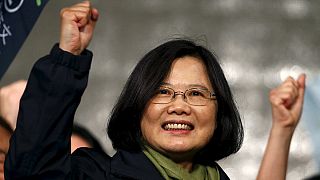 Taiwan has elected opposition leader Tsai Ing-wen as its first female president.
The overwhelming victory for the leader of the pro-independence Democratic Progressive Party looks set to usher in a new round of uncertainty with the self-ruled island's giant neighbour China, which still claims Taiwan as its territory to be taken by force if necessary.
She beat New Taipei City Mayor Eric Chu, who has stepped down as chairman of the formerly ruling Kuomintang (KMT) Party which had helped build warmer ties with Beijing.
Taiwan election: China-friendly presidential candidate concedes loss https://t.co/njKcrFr12Lpic.twitter.com/8NAmFiIpYA

— CBC News (@CBCNews) 16 Janvier 2016
The KMT has also lost parliamentary elections, prompting the resignation of Taiwanese Premier Mao Chi-kuo.
A government that will defend Taiwan's sovereignty has been elected by the people, Tsai said in her victory speech, adding that she would strive to maintain stability in relations with China.
The election comes at a tricky time for Taiwan's economy, which slipped into recession in the third quarter last year. China is also Taiwan's top trading partner and Taiwan's favourite investment destination.