Cologne fears undermine refugee security in Germany
Comments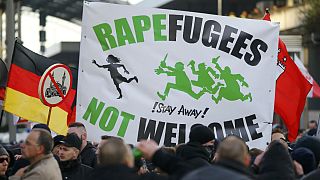 The fallout after New Year's Eve in Cologne, Germany continues. People's fear creates a political predicament for the authorities, concerned over anti-foreigner reprisals, France 2 reported.
A Bavarian politician found an original way to protest Chancellor Merkel's policy on asylum seekers; he bused Syrians into Berlin to demonstrate outside her office building. Yet her policy was clearly undergoing a change, Spanish TVE reported.
As Germany has welcomed refugees and given so many an opportunity to begin a new life, Swiss RTS reported on refugees apologising to Germans on others' behalf.
The Danish government wants to stop the refugees from coming through Germany to Denmark, suspending Schengen rules and introducing measures to confiscate valuable items from asylum-seekers, Swiss RSI reported.