Don't blame us for refugee policy failure, says EU's Juncker
Comments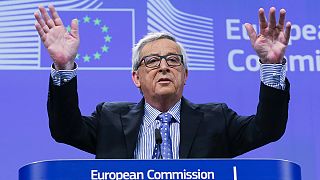 EU governments have failed to deliver on the promises they made to tackle Europe's refugee crisis, the head of the European Commission said on Friday.
Speaking at a news conference in Brussels, Jean Claude Juncker said the body he leads should not be blamed for the apparent failure of a flagship relocation policy.
"It's not the Commission that has not delivered," he said. "But a number of member states have failed to fully deliver on what we need to do and what needs to be done."
More than one million migrants entered Europe in 2015, a large part of them fleeing conflict in Syria.
In October, EU governments approved a plan to relocate 160,000 asylum seekers across the bloc amid stuff opposition from central and eastern European members.
But just 272 people have been moved to other countries so far.
Juncker warned that Europe's reputation was at risk, saying that "now we do appear as being the weakest part, and the poorest part of the world."
The former Luxembourg premier's comments came in a 'New Year's address' to reporters on Friday morning, which also focused on the EU's economy and Ukraine.