Turkey kills 200 ISIL fighters, says PM Davutoglu
Comments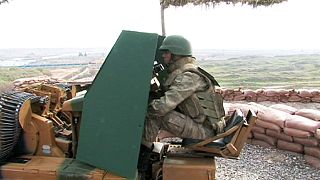 Turkey's prime minister said Turkish tanks and artillery have killed almost 200 fighters from the so-called Islamic State, or ISIL.
Ahmet Davutoglu said the strikes in Syria and Iraq were in retaliation for this week's suicide bomb attack in Istanbul.
He said they targeted ISIL positions around Bashiqa in northern Iraq. Cross-border strikes into Syria targeted an area around the rebel-held town of Marea.
Davutoglu told Turkish ambassadors gathered in Ankara that ground strikes on ISIL positions are ongoing and if necessary he will involve Turkey's air force.
Turkish warplanes have not flown over Syrian airspace since Ankara shot down a Russian fighter jet in November, triggering a diplomatic row with Moscow.
A man, believed to have entered Turkey as a Syrian refugee, blew himself up in Istanbul on Tuesday, killing ten German tourists and seriously wounding several other foreigners.