New aid convoy due in Syria as peace talks are scheduled for this month
Comments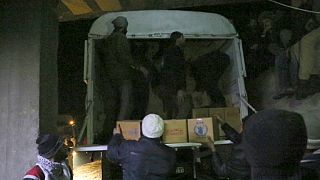 New convoys carrying food and medicine to the besieged Syrian town of Madaya and two others are due to arrive today, January 14. It comes after Monday's first shipment of humanitarian aid which was delivered following an international outcry against both both regime and rebels who've been cutting off towns as a tactic of war.
"What we saw in #Madaya should not happen anywhere in this century" | https://t.co/O8P1IOqxVs

—

UNHCR

United Kingdom (@UNHCRUK) January 13, 2016
Meanwhile on the diplomatic front the UN Special envoy for Syria, Staffan de Mistura insists peace talks set for January 25 in Geneva will go ahead although Syrian rebels want UN humanitarian resolution conditions to be implemented as a prerequisite.
With the conflict due to enter its fifth year this Spring both rebel and regime troops are still vying for territory. Syrian troops and militias backed up by Russia airstrikes have now claimed the strategic rebel-held town of Salma in Latakia province.
The victory allows President Assad's troops to move on to other rebel held towns which have been out of their control for three years.
Salma's fall marks one of the most significant achievements by the Syrian military since Russia began airstrikes in the country last September to shore up President Bashar Assad's forces.
Zakariya Ahmad, an opposition activist in the nearby Idlib province, said the military had undertaken barrel bombing and airstrikes on Salma for the past 93 days.
Ahmad said activists in the region had reported 92 airstrikes believed to be Russian on Salma in the last 24-hours before it was fully seized by government troops.
The town had once been predominantly inhabited by members of Assad's Alawite sect. Latakia province includes key strongholds of Assad and the Alawite religious minority.