Swedish police to investigate sexual assault cover-up claims
Comments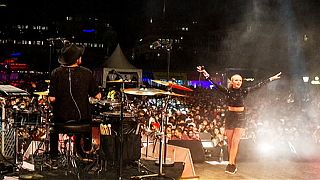 Swedish police have begun investigating allegations of a cover-up of sexual assaults at a Stockholm music festival last August.
It comes after Swedish media published internal police reports claiming 50 mostly migrant youth suspects attacked teenage girls at the "We are Sthlm" festival.
The event is for youths aged 12 to 17 and is one of the biggest of its kind in Europe.
National police chief Dan Eliasson says "the claims will be fully investigated to make sure it doesn't happen again. We're not sure if we were given sufficient information."
The revelations have drawn comparisons in Swedish media with the New Year's eve attacks on women in Cologne and other German cities.
Kimberly Petterson, who attended the festival, described her experience: "I was dancing with some friends when all of a sudden these guys turn up and started lifting up our skirts and started to touch us. But we looked for the guards… and the guys had to leave."
Sweden faces a backlash among many voters after a record 163,000 asylum seekers arrived last year, part of a wave of immigration that has seen the far-right Sweden Democrats become one of the country's biggest political parties.
But some women believe it is straight-forward case of sexual politics which stretches across borders.
"I think it is not because of guys that come from other places, it could as well happen or it happens with people from Norway or Sweden or Germany. They also do the same when they get drunk. I think there is not really a difference between different men," said one woman.