German Chancellor: Europe is ''vulnerable"
Comments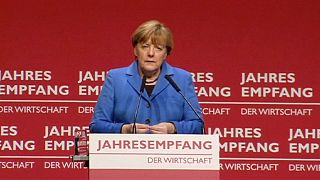 German Chancellor Angela Merkel says a lack of order and control is making Europe "vulnerable" in the face of the refugee crisis.
She was addressing a business conference in the city of Mainz on Monday:
"Now all of a sudden we are facing the challenge that refugees are coming into Europe and we are vulnerable, as we see, because we don't yet have the order, the control that we would like to have. We also have to intensify the fight against the causes that make people flee in the first place, then we'll be able to reduce the number of refugees – that's what we want to happen this year."
The Chancellor is under growing pressure to take a harder stance on immigration and refugees after the first in-depth police report on New Year's Eve violence in Cologne documented sexual assaults and robbery on women by groups of young, mainly migrant men.
Around 2000 anti-Muslim demonstrators took to the streets of Leipzig on Monday to protest at the Cologne attacks under the slogan "Merkel needs to go".