Leipzig counts the cost of anti-Muslim protest
Comments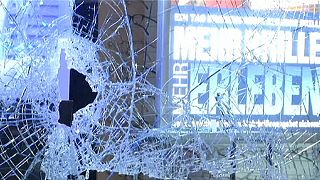 A massive clean-up operation is underway in the
eastern German city of Leipzig after hundreds of right-wing supporters went on a rampage.
Dozens of shops were vandalised and the group also set of fireworks before police brought the situation under control.
Emotions are running high across the country after gangs of young migrant men allegedly sexually assaulted women at New Year in Cologne and other towns.
Monday night's rioting came as some 2,000 anti-Muslim "LEGIDA" protesters marched in Leipzig city centre, calling on Chancellor Angela Merkel to resign.
Members of its sister-group, the anti-Islam Pegida movement, also joined the march.
Self-styled German football 'hooligans' tend to join right-wing groups on marches, sometimes starting fights.
A similar number of counter-protesters also gathered, officials confirmed.
With the number of migrants arriving in Europe's biggest economy set to rise further this year, Merkel is under growing pressure to toughen her line on refugees.