The Revenant triumphs at Golden Globes
Comments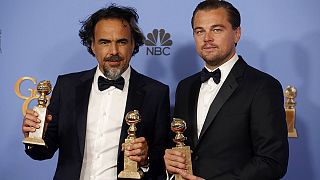 Revenge drama "The Revenant" and space adventure "The Martian" won the top movie prizes at the Golden Globes.
The Revenant, about a fur trapper seeking retribution, picked up three awards.
The film was awarded best motion picture award in the drama category. Alejandro Inarritu won the best director gong while Leonardo DiCaprio, who won the best actor award, dedicated his win to the indigenous communities around the world.
Bria Larson, star of The Room, won best actress in the Drama category.
Ridley Scott's The Martian, about a Nasa astronaut who gets left behind on the red planet, won the best film in comedy or musical category.
While the American Jennifer Lawrence won best actress in the musical or comedy category for her portrayal of the Miracle Mop inventor in the film Joy.
Sylvester Stallone beat Idis Elba to the best supporting actor award for his reprise of the Rocky Balboa role in the film Creed, while the film Steve Jobs won Best Screenplay award
Britain's Kate Winslett won best performance by an actress in a supporting role in the Film Steve Jobs.