Should Golden Globe winners prepare their Oscar speech?
Comments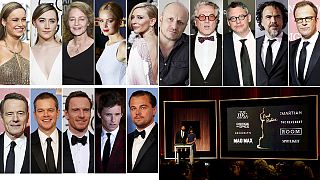 It is said that the Golden Globe Awards predict who will probably win at the Oscars. We looked at the four most "important" categories to see what Globe winners can expect from the Academy ceremony six weeks later.
What is the difference?
The 93 members of the Hollywood Foreign Press Association choose the winners of the Golden Globes. This means journalists from around the world, who are living in Hollywood decide who wins what. The Oscars voters are members of the Academy of Motion Picture Arts and Sciences, more than 5,700 people working in the cinema industry.
Ladies first
Concerning the Golden Globe for Best Actresses in a Motion Picture there are two subcategories: drama and musical/comedy. In the 72 years since the Globes started, winning actresses have gone on to scoop Oscars in the same year 50 times. If we look by genre: 37 times the drama category winner took both awards and 13 times the musical/comedy actress.
In the last 15 years, only once has neither the drama nor musical/comedy Globe winner taken home the Oscar (11 times drama, 3 times musical/comedy). That was in 2001, when Halle Berry won the Oscar for Best Actress for Monster's Ball (Sissy Spacek and Nicole Kidman had scooped the Globes).
2016 Globe winners Jennifer Lawrence (Joy) and Brie Larson (Room) will be hoping that trend continues this year.
Bad omen for C-named actors
It's a similar story for the male roles. In the last 72 years, Globe-winning actors have also won Oscars 54 times. 47 of those actors won Globes in the drama category, only seven the comedy/musical.
In the past three decades four actors have won Golden Globes in both categories but failed to clinch an Oscar that year: George Clooney, Jim Carrey, Tom Cruise and Leonardo DiCaprio.
DiCaprio has another shot at his first Oscar this year, having won January's Globe for his role in The Revenant.
The most 'Globed-yet-Oscarless' actor remains Peter O'Toole, three times winner of the Golden Globes but never at the Academy Awards.
Less predictable categories
Awards have also been given in Best Motion Picture in two categories since 1951: best drama and best musical/comedy. Half of the time (32) the Best Motion Picture – Drama was also voted best at the Oscars. For the musical/comedy category, it's just 10 times.
In the last 15 years only seven movies have done the double.
For Globe-winning directors there is a slightly smaller chance of taking both awards: it has happened 37 times out of 72, or six times in the last 15 years.
Globed but not even Oscar-nominated
On three occasions actresses have won a Globe but not even been nominated by the Academy that year. The same thing has happened to actors twice.