Cologne attackers must be brought to justice, says Rotterdam mayor
Comments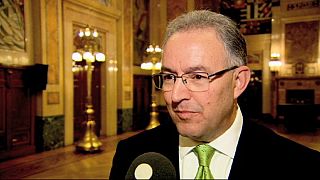 The tough-talking mayor of Rotterdam, Ahmed Aboutaleb, has given his reaction to the Cologne sex attacks.
Aboutaleb, who holds both Dutch and Moroccan citizenship, last year told immigrants who do not appreciate life in the Netherlands "to pack their bags and leave".
In an interview with Euronews' Olaf Bruns, Aboutaleb said that "the identity of the attackers, in my opinion, is less important, although you have to debate that, (it is) less important than the rule of law. it doesn't matter who did that; the police has the duty to capture them and to bring them to justice."
Click on the link above to watch the full interview.