German Chancellor Angela Merkel under pressure over attacks in Cologne
Comments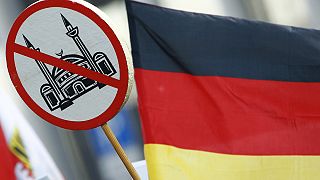 Of all the countries of Europe in 2015, Germany accepted the most asylum-seekers: more than one million last year. Some one half of these are thought to be from Syria, seeking refuge from its civil war. Chancellor Angela Merkel's humanitarian, open-door policy for these people won her widespread praise.
She presented it as positive for Germany, and said it again on New Year's Eve.
"I am convinced that if we tackle the formidable task posed by the influx and integration of so many people in the right way today, with our major civil action and our comprehensive political measures, then this will represent an opportunity for us tomorrow."
That very night, however (Dec. 31st-Jan. 1st), came the sexual attacks in Cologne and other German cities. As anger built up in the days that followed, Merkel's tone hardened.
She warned the refugees: "The right to reside in Germany and the right of asylum can be withdrawn if someone is sentenced to imprisonment or probation—either way."
The justice minister said: "There is no justification for blanket agitation against foreigners," but right-wing groups seized the on occasion to demand a stop to refugees entering Germany.
In Cologne, investigation of the complaints continues, with a close focus on the around 40 percent which included sexual offences, and at least two rapes. The adequacy of public security enforcement is being questioned and Cologne's police chief has been sacked.
"For a horde of people to commit [the] crimes, it has to have been planned somehow," Justice Minister Heiko Maas told German media.
He said: "The perpetrators must be punished. We must clarify if what happened is a new form of organised crime against which the state must take measures."
The attacks threaten to further erode confidence in Merkel, and could stoke support for the anti-immigrant policies.
Meanwhile, sociologists warn that where men outnumber women violence, insurgence and mistreatment of women increases.
According to the UN, 58 per cent of the migrants who arrived in Europe last year were adult men, 17 per cent were women, and the remainder were children.