Bowie, from glam star to Blackstar, a serial (re)inventor
Comments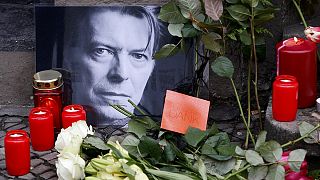 We talk to music industry commentator Martin Talbot, chief executive of the Official Charts Company in the UK, in London.
Ground Control to Major Tom, Commencing countdown, engines on. Check ignition and may God's love be with you. (Vatican)
Alasdair Sandford, euronews: "Fans have clearly been personally affected, with people saying they'll remember where they were when they heard David Bowie had died. How significant a moment is this, would you say?"
Martin Talbot, Chief Executive, UK Official Charts Company: "David Bowie was an absolute colossus of the music industry and the entertainment industry broadly as well, because he wasn't just a musician, he was a colossus. You are talking about, from a music perspective, the kind of significance of Elvis Presley, The Beatles… there aren't many others actually that you can put in the same bracket. This is a massive, massive moment."
euronews: "What about his latest album Blackstar—its single had just been released. He must have been ill as he made it. How do you view it now, and just how good is it?"
Talbot: "I think it is a remarkable thing actually. His longtime producer, Tony Visconti, has said already that his life was a work of art and actually his death was a work of art as well. Now listen to the album, which is a very dark album which talks about going up to heaven, looking down on the world, and (even in the video) to the first single 'Lazarus': there is an image of him kind of rising up from a bed as if he has passed away. Now there are all kind of messages being seen within that. And clearly he knew what was going to happen, he knew that even if he was going to be around for a short while after the album release to promote it or to be around to see it being successful, I think he knew that it wasn't going to be long afterwards, and it was certainly going to be his last contribution as an artist, as an iconic kind of music artist."
euronews: "Much has been said about David Bowie's career, about how he constantly re-invented himself, that he was always ahead of his time. How true is that?"
Talbot: "Within a decade, in the seventies alone, David Bowie produced half a dozen, depending how you view all of his music, he produced certainly half a dozen maybe ten absolutely seminal incredibly important records. But each time kind of re-inventing himself, appearing as a different character, whether it was the original David Bowie who was previously a kind of avant-garde actor, through Ziggy Stardust, Aladdin Sane, the Thin White Duke. He came out of this era—now well documented—of a huge amount of drug abuse in the second half of the seventies and then came out with Scary Monsters, a different character again, and then Let's Dance in the early eighties as a kind of soul boy. Even within that period he packed so much in to that particular period, it is remarkable."
First Lemmy, now Bowie. All of the cool is leaving us; global boring is eminent.
RIP Thin White Duke
the coolest. pic.twitter.com/JbQg04XzUk

— Foxing (@FOXINGtheband) January 11, 2016
euronews: "His impact clearly was felt way beyond the world of music, because the tributes have been coming in from politicians, like the British prime minister, the Vatican the German government said he helped bring the Berlin Wall down."
I grew up listening to and watching the pop genius David Bowie. He was a master of re-invention, who kept getting it right. A huge loss.

— David Cameron (@David_Cameron) January 11, 2016
Talbot: "Of course, he played a massive part in the history of Berlin. Three of his most acclaimed records Heroes, Low and Lodger were all recorded in Berlin in a studio right by the Berlin Wall, at a time when, it is easy to forget, not a lot of culture was coming out of Berlin. It certainly was not appearing on the world stage in the way that it did after the release of those records. So, he had a very intimate relationship with Berlin."
You can watch the full interview here.
Good-bye, David Bowie. You are now among #Heroes. Thank you for helping to bring down the #wall.
https://t.co/soaOUWiyVl#RIPDavidBowie

— GermanForeignOffice (@GermanyDiplo) January 11, 2016
Sources include: Music Tank, Official Charts, Reuters, Associated Press