Pro-secession Carles Puigdemont voted in as leader of Catalonia
Comments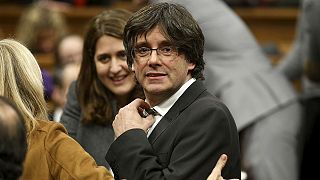 Mayor of Girona, Carles Puigdemont, has been voted in as the new President of Catalonia.
The move puts the north-eastern region back on the road to secession from Spain after months of political
deadlock and waning support in his predecessor, Artur Mas, who stepped down a day earlier.
Immediately before the vote, Puigdemont called to begin the process to set up an independent state in Catalonia.
"These are not times for the fearful or faint of heart. They are not times for those who don't want to move forward. We have to assume responsibilities we may not have expected previously," he told the Catalan parliament. His words were received with applause.
Rajoy reacts
Shortly afterwards, Spain's interim Prime Minister, Mariano Rajoy, spoke out in support of a united country. He warned he would fight for unity in Spain.
"I will not allow anyone to assume unlimited powers outside the laws of democracy. I will uphold the law and democracy throughout Spain, starting by defending the Spanish sovereignty present inside the people of Spain,"
A close call
The outcome of the vote was close. 70 MPs voted in favour of Puigdemont, 63 against and two abstained.
Despite this, the region will almost certainly move forward with its 18-month roadmap for secession. If successful, Catalonia will put in place its own constitution, and begin establishing institutions necessary for independence, such as an army, a central bank and a judicial system.