Iraqi forces hold Ramadi as ISIL launch major counter attacks
Comments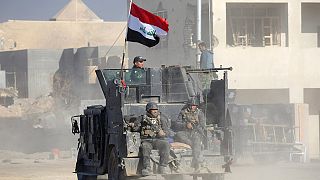 Iraqi forces continue to bolster their positions in Ramadi after reclaiming the shattered Iraqi city from ISIL on Monday.
Terrified families emerge from rubble after battle of Ramadi https://t.co/GELBNejZeXpic.twitter.com/s0OTFhN5nO

— Reuters Top News (@Reuters) January 1, 2016
The recapture of Ramadi marks a major blow for ISIL and for some vindicates the use of coalition air power in support local ground forces.
By retaking Ramadi, Iraq's security forces have won a morale-boosting victory https://t.co/0Bs2vZ9siFpic.twitter.com/vSoHvoyTmH

— The Economist (@TheEconomist) January 8, 2016
Iraqi soldiers, bouyed by their success, look set to continue to retake territory.
"We are advancing towards the al-Andalus area, but as you know the roads are full of bombs. We are supported by air cover from the army aircraft, Iraqi air force and the coalition. Thanks to God, we will keep moving forward and we will not retreat. Anbar will be returned back to its people and we are now in the centre of Ramadi, " said one unknown soldier.
However, ISIL are far from finished and the group has launched a series of major counter attacks against the Iraqi army since Monday.
Iraq's Ramadi has been liberated from ISIL control, but 80 percent of the city is destroyed https://t.co/JINUG5KBtkpic.twitter.com/Rvw0VXv1jy

—

AJE

News (@AJENews) December 31, 2015
The destruction of Ramadi is almost complete ISIL fighters operate at the heart of communities and to extract them means cities are turned to rubble.
Thousands of homes destroyed in Iraq's Ramadi https://t.co/SxgeG9rr5rpic.twitter.com/JbqAlNCTn5

— Turkish Sight (@TurkishSight) December 30, 2015
The desolation will increase as the coalition moves on to the much larger ISIL held cities of Raqqa in Syria and Mosul in Iraq.