Iraq 'few days' from liberating Ramadi from ISIL
Comments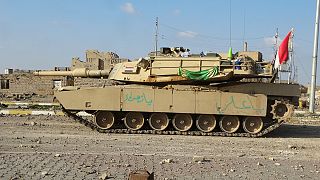 Iraqi forces say they have recaptured a number of southern neighbourhoods from the group calling itself Islamic State (ISIL) in the city of Ramadi, capital of the country's Anbar province.
A member of Iraq's counter-terrorism unit said it was just "a few days" until the entire city of Ramadi was liberated. "Only small distance separates them from us," he said. "We are watching them [ISIL fighters] coming out. We have killed many of them and our snipers have taken positions on the roofs of the houses of Ramadi. God willing, we will liberate Ramadi soon."
An Iraqi victory in Ramadi would allow the country's armed forces to focus on capturing the ISIL stronghold of Mosul, Iraq's second-largest city, according to the country's prime minister Haider al-Abadi.
Ramadi fell to ISIL in May and Iraqi armed forces first entered the city on Tuesday (December 23).
The Iraqi air force and US-led coalition jets have been pounding ISIL targets in support of ground troops.
The head of military operations said the Iraqi offensive is being hampered by suicide bombs, snipers and booby traps.
#Iraqi forces to retake Mosul from ISIS after #Ramadi secured: PM https://t.co/7ejpL6abC4pic.twitter.com/58199cMA5J

— Ahram Online (@ahramonline) December 25, 2015