Growing fury in Germany over New Year's Eve assaults on women in Cologne
Comments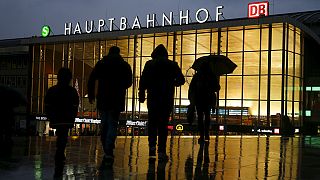 There is growing fury in Germany over assaults that took place on New Year's Eve in Cologne.
Some 120 women said they were robbed, threatened and sexually molested after being surrounded by groups of young men.
The attacks have been linked to the controversy over refugees entering the country after police said the attackers appeared to be foreigners.
Some media quote what are said to be internal police reports that say 16 suspects have been identified and some are recent refugee arrivals.
However, other officials warn that no one has been arrested and there is no concrete evidence the attackers were asylum seekers.
Under pressure over immigration, and pressed for comments on the Cologne attacks, the German Chancellor said: "We must examine again and again whether we've done what is necessary in terms of expulsions from Germany, in order to send clear signals to those who are not prepared to abide by our legal order."
Meanwhile, similar reports are emerging elsewhere.
Half a dozen women in Zurich say they were assaulted after being surrounded by young men on New Year's Eve.
Finnish police have also said they received information that assaults were planned on women at New Year's Eve celebrations.
The events in Cologne have cast a shadow over the city's upcoming annual carnival.
Josef Sommer from Cologne Tourism said: "The situation is definitely a little tense in light of the many reactions worldwide, not just in the media but also from guests who had planned or are still planning a Cologne trip. They are now reconsidering whether they are coming."