Walloon rail strike halts trains in Belgium and beyond
Comments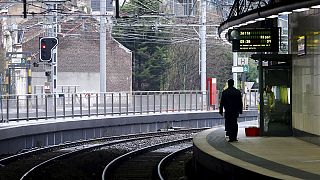 Rail workers in Brussels and southern Belgium are carrying out a 48-hour strike which disrupting connections as far away as London and Paris.
Both Thalys and Eurostar say their services have been cut or severely affected.
International rail travellers are instead being re-routed onto buses.
One young traveller, Natanong Maikhu, said her train to Munich had been cancelled.
"Right now they said that they have a bus to some city in Germany and then I can take the train there. Yeah, but it is going to delay, like half a day, so it has like, ruined my day," she said.
The protest is against government reforms aimed at streamlining services to improve efficiency.
Unions say they will mean austerity measures cutting thousands of jobs and services.
The stoppage is by transport unions in the French-speaking Walloon province where no trains are running.
But rail traffic is also heavily disrupted in Flanders as many services cross the country – although trains within the Dutch-speaking area are running normally.