Strike action to cause major rail disruption in Brussels and connections
Comments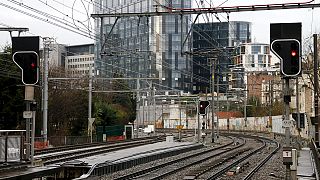 A strike on Belgium's railways is set to disrupt both national and international rail travel for two whole days.
French speaking unions have called the industrial action for January 6 and 7 in protest at the government's modernisation plans.
Passengers have been advised to use alternative means of transport or to postpone their journeys.
One commuter told a journalist that she keeps back annual leave days so she can take them when a strike is on. This works ok but unfortunately she doesn't have enough days to cover the number of strikes.
Another who works in Brussels said she will have to sleep at a friend's house. "I work for a financial data company so I have to work at my office and not from home so for me it is a real handicap."
Rail Information
Services on Eurostar have been cancelled between Brussels and Lille on Wednesday and Thursday.
Thalys has cancelled all trains on Wednesday and all but two trains on Thursday. The company said it will update its plans on Wednesday.
TGV

has scrapped its Lille-Brussels connection during the strike.
ICE

trains will only run until Liege-Guillemins between Tuesday and Friday morning.ICE trains between Brussels and Aachen in Germany have been scrapped on Wednesday and Thursday.
Trade unions have been embroiled in a row with the government and railway management since 2015.
The government wants to modernise public transport and push through a number of changes, notably by boosting the productivity of workers.
It has demanded that the railways cut costs and increase productivity by 4% every year. Rail bosses want to do this by cutting some workers' rights, such as the number of holidays taken.