Snow in Syria and Lebanon causes new hardship for refugees
Comments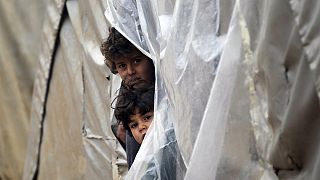 Parts of Syria have been hit by strong winter snowstorms, forcing thousands of people already desperately seeking shelter from civil war to take refuge from the elements.
Pictures taken from social media, said to be from Idlib in the north of the country, show snow-covered rooftops and people out in the streets in a blizzard.
The harsh conditions come at a time when according to Kurdish reports, several villages are under siege, causing acute shortages of food and medicine.
Another video appears to show the al-Yamiyyeh refugee camp at Latakia under snow.
One man said he was displaced from the so-called Mountain of Kurds, which has been bombarded by Syrian government and Russian forces.
"It took us a couple of days until we made ourselves safe. Now it's minus 10 degrees here, it's cold and there's snow," he said.
"We have been here for four years. The local councils are lacking resources, the relief and support was all given to the new refugees. We have many shortages, we don't have wood, there are no heaters," another man added.
Further south, snow has also hit the town of Madaya near the Lebanese border. Besieged by the Syrian army and Hezbollah, there have been warnings that up to 40,000 civilians are starving.
Despite hunger and cold
We'll keep learning so we may build #Syria "if we stay alive"
#Madaya
#Madaya_is_starvingpic.twitter.com/tR92SAWNdd

— Raed Bourhan (@raedbrh) January 4, 2016
Over the border in Lebanon, thousands of Syrian refugees are bracing themselves for another cold winter away from home.
Across the Bekaa valley, many people are totally reliant on relief agencies.
The UN refugee agency UNHCRwhich has filmed conditions in the region estimates that nearly 200,000 families in mountainous areas are especially vulnerable from the cold weather.
Snows in Sweida, southern #Syria. Hundreds of thousands of displaced people struggle to secure fuel in this cold pic.twitter.com/RUWmhK2Z3C

— Qusai Azrouni (@qusaiazroni) January 5, 2016