Hirscher wins his first slalom of season in Santa Caterina
Comments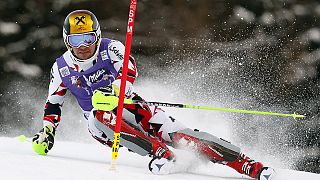 Reigning four-time overall world cup champion Marcel Hirscher claimed his first slalom win of the season on Wednesday.
The Austrian opened up his slalom account with a fine display at the Italian resort of Santa Catarina.
Hirscher was third after the first heat but then posted the fastest time of the second run to celebrated his 36th career World Cup victory.
It was the third time from the three opening slalom races he has made the podium but was visit to the top of the podium in the discipline.
Henrik Kristoffersen of Norway won the first two slaloms of the campaign and continued his stellar start to the season with a second place finish.
His duel with Hirscher has added some spice to this year's race to the slalom title.
The 21-year old was second fastest down the first run and was looking good for the win towards the end of the second but a slight mistake in the final few gates cost him his third straight victory.
He remains Slalom leader 20 clear of Hirscher.
Aleksander Khoroshilov of Russia was fastest in the first heat but eventually had to settle for third on the day. He is also third in the discipline standings.
The race was moved from Zagreb because of a lack of snow and was the first in a series of five slaloms over the course of three weeks.
The next Slalom takes place at the Swiss resort of Adelboden on Sunday a day after a giant slalom.