Dubai's Address Hotel smoulders after New Year's Eve blaze
Comments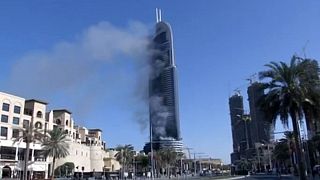 Dubai's luxury Address Hotel was still smoldering on Friday morning (January 1). Flames spread up one side of the building as people gathered nearby for a New Year's Eve fireworks display at the world's tallest building a few hundred meters away.
Investigators are working to find the cause of the blaze.
Dubai police said that the building was evacuated and only 14 people were lightly injured, but a medic at the scene said more than 60 people were treated for mild smoke inhalation and problems caused by crowding as they fled the site.
Witnesses described seeing flaming debris wafting down from The Address as occupants left, some running.
The Dubai media office said it had started on the twentieth floor of the luxury hotel and residential tower.
Euronews Dubai correspondent Rita Del Prete reported: "The smoke and the smell of burning have spread for kilometers, in an area crowded with people gathering to watch the midnight fireworks organized, as each year-end, from the nearby Burj Khalifa."
As midnight struck and the Address Hotel continued to burn, crowds cheered as the one of the world's largest displays went ahead, as planned, around the Burj Khalifa.
مصور جنائي لشرطة دبي يلتقط بداية الحريق بعدسة كاميرته..من هنا يبدأ البحث. pic.twitter.com/5MojgyVOoi

— ضاحي خلفان تميم (@Dhahi_Khalfan) January 1, 2016
Dhahi_Khalfan</a> Our video of the start of the fire. Contact me for full clip. <a href="https://t.co/9harC3A3Ur">pic.twitter.com/9harC3A3Ur</a></p>&mdash; Ali Khedery (akhedery) January 1, 2016