Witnesses recall moment fire engulfed luxury Dubai hotel
Comments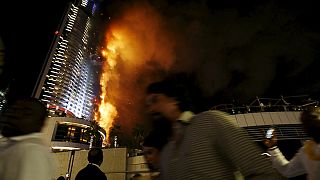 Witnesses have been recalling the moment a massive fire broke out a luxury skyscraper in Dubai.
We're all in shock... shattered, but trying to keep cool
Flames engulfed the 63-storey Address Downtown, a hotel and residential tower.
It happened as a New Year fireworks display kicked off at the nearby Burj Khalifa, the world's tallest skyscraper.
One Ukrainian visitor, who was staying at the hotel, told euronews that there was little information coming through in the hours after the fire.
"We're all in shock," said Anna Roienko, "shattered, but trying to keep cool."
More than a dozen people were injured and one person suffered a heart attack.
Local media had reported one death, but there was no official confirmation.
"When it was taking hold, we did move away because you never know, and obviously with the things that have happened in the past," said Rob Clifford, who witnessed the fire.
"But we were quite confident that the civil defence and everything will deal with it."
Many were undeterred by the fire, with tens of thousands of people staying to watch the nearby fireworks show – which went on.
The crowds whistled and cheered as teams of firefighters battled the flames nearby.