Taliban claims suicide car bomb blast near Kabul airport
Comments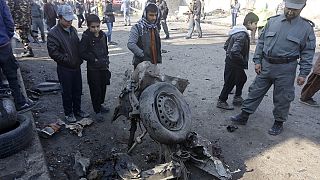 A suicide car bombing near Kabul airport on Monday has killed at least one person and injured 13 others.
I saw a teenage boy killed on the ground. It was really terrible
The Taliban claimed responsibility for the blast which it said targeted a convoy of foreign forces.
Police though say the attack near a school was aimed at spreading fear among ordinary Afghan citizens.
All the victims are said to be civilians.
The latest in a recent series of suicide bombings, the explosion shattered windows and sent debris flying onto the street.
"I was standing near my shop when suddenly I heard a huge explosion and everything went dark around me," said one of those hurt, mechanic Maiwand Jan, speaking from his hospital bed.
"There were pieces of iron flying over. I was around three metres away from this blast. I saw a teenage boy killed on the ground. It was really terrible."
Taliban insurgents have claimed several attacks this month, including an assault on a Spanish embassy guest house in the Afghan capital and a suicide bombing near Bagram air base that killed six American troops.
They have also been involved in heavy fighting in their historic heartland in Helmand province in southern Afghanistan, where they have been battling government forces for weeks for control of Sangin district.
Taliban takes control of a district in Helmand, Afghan official says https://t.co/aL2eDWpcCu

— TIME.com (@TIME) 21 Décembre 2015