Rebels leave Zabadani under UN-backed deal
Comments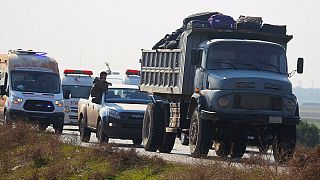 Dozens of injured fighters waited to board buses on Monday in the rebel-held Syrian town of Zabadani.
After months under siege from government forces, they were being evacuated from the town under a deal brokered by the UN.
At the same time, Sunni fighters in northwest Syria promised safe passage to some 300 Shi'ite civilians from the town of Fuaa, in Idlib province. After entering Turkey by land, they will fly to their final destination of Beirut.
In Zabadani, buses and ambulances will ferry the rebels across the border to Lebanon, from where they will fly to Turkey.
Both convoys are taking place under the auspices of the International Committee for the Red Cross.
Zabadani was one of the last anti-government strongholds on the Lebanese border. The rebels evacuated the Al Wair district of Homs under a similar deal earlier this month.