Africa Eco Race: Setting off from the 'temple of motorsport'
Comments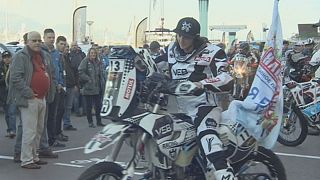 Competitors of the 8th edition of the Africa Eco Race continue to fine-tune their engines ahead of Tuesday's stage one.
The replacement race for the cancelled Dakar Rally, this year, sets off from Monaco with a leisurely drive to the start line in Nador on the northeastern ridge of Morocco.
Co-organiser and winner of the first six editions of this rally raid, Frenchman Jean-Louis Schlesser, said: "The first new thing for the race is that it starts from Monaco. We are very proud to start off from here. Monaco is the temple of motorsport and for a rally raid to set off from here – which has never happened – is just special, especially for the competitors. I would have loved to have started from here."
Last year Jean Antoine Sabatier steered his Bugga One to the cars title, former Dakar Rally man Pål Anders Ullevålseter triumphed in the bikes category while Anton Shibalov drove his Kamaz to victory in the trucks division.
After the transition from Monaco to Morocco, stage one on Tuesday takes the competitors across 613 kilometres of rocky terrain from Nador to Jorf El Hamam.