Ethnic Turks repatriated from eastern Ukraine
Comments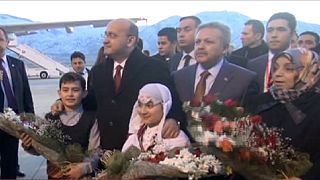 Uprooted once again, hundreds of ethnic Turks living in eastern Ukraine are being repatriated by the Turkish government.
Originally from Georgia, deported to Central Asia by Stalin, many of these Meskhetian Turks had settled in Ukraine decades ago.
On Friday, about 300 of them were flown to Turkey on military planes. Most lived in Sloviansk, where deadly fighting continues between Ukrainian forces and pro-Russian separatists.
"We've been hiding in basements for days, for weeks," said Sloviansk resident Alizar Nuriyev. "We were starving, we were worried. we had heart attacks. But we survived."
The Ukrainian conflict has killed more than 9,000 people in the past 21 months. Ankara said in April it would bring ethnic Turks to safety. But many of them called Ukraine their home.
"Everything was fine, we got along well with our neighbours, with everyone else. It's a pity to leave it all," said Sloviansk resident Larisa Bagaliyeva.
The first families arrived in eastern Turkey's Erzincan province on Friday. Some 2,000 ethnic Turks are due to be repatriated in the coming weeks. The government has promised to provide them housing and help them find jobs.
Turkey welcomes Meskhetian Turks from east Ukraine https://t.co/0CYLoWyopZpic.twitter.com/1LMoesdqOI

—

ANADOLU

AGENCY

(

ENG

) (@anadoluagency) December 25, 2015