India's Modi pays surprise visit to Pakistan
Comments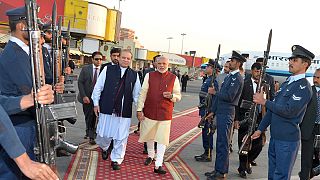 In a surprise visit, Narendra Modi drops in on his Pakistani counterpart Nawaz Sharif.
The two prime ministers met in Lahore, the first such encounter at this level in more than 10 years. Modi was on his way home from an official trip to Afghanistan.
Tensions remain high over the disputed Himalaya border region of Kashmir.
This diplomatic exchange will not necessarily help; the opposition in India reacted to the news calling the step, said to have been decided at the last minute, "irresponsible."
India and Pakistan did announce several weeks ago that they were to restart peace talks – both countries possess nuclear weapons.
Those talks were suspended in 2008 after a series of deadly terrorist attacks in Mumbai carried out by an Islamic militant organisation based in Pakistan.