El Gordo: Senegalese migrant rescued from Med shares top prize
Comments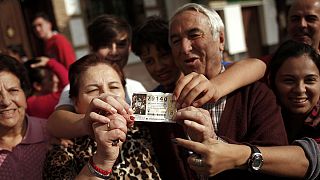 Residents of Roquetas de Mar in southern Spain celebrated on Wednesday as news emerged that all 1,600 winning tickets in this year's El Gordo lottery were sold in the small city.
Each ticket is worth 400,000 euros.
Senegalese migrant Nguema Ngagne is one of the lucky winners.
"Here, I just have my wife, who has always been with me," he told reporters. "And we've had it difficult."
Ngagne, who is 35, said he had just lost his job as a vegetable picker and, before his win, he and his wife had less than 5 euros between them.
He left Senegal in 2007 on a boat with 65 others. He was rescued by a Spanish lifeboat and moved to Spain. Now he says he wants to bring the rest of his family to live with him.
The mass win is a huge boon for the Roquetas de Mar – unemployment in the Almeira region where it is located averages 31%.
El Gordo is the world's richest lottery, and will hand out 2.2 billion euros this year in millions of prizes.